BorkOS
What is BorkOS?
BorkOS is an experimental new operating system pioneered by Woodley, Darrick, and Steven. The three of them wrote it primarily to gain a feel for how real operating systems are written, and also to explore different concepts of basic principles. It also provided the three of them with something to do on stormy days during school vacations.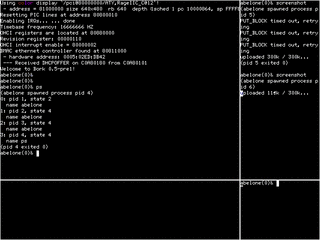 What Hardware is Supported?
Currently, BorkOS is being developed for bondi blue iMacs (of 1999 vintage), but it has been known to at least boot on several other systems (B&W G3, newer iMacs, etc). Conceivably it could run inside Mac-On-Linux, but right now it does not due to missing hardware drivers.
Rudimentary USB keyboard/mouse input
OpenFirmware console output or accelerated Mach64 displays
BMAC ethernet controller
OpenPIC interrupt controller
PowerPC G3 processor
Rudimentary ADB support (poweroff/reboot mostly)
What Features Does it Support?
BorkOS has these features:
Virtual Consoles
Almost vt10 terminal emulation
Memory management via paging
TCP and UDP sockets
pipes
The KYZ windowing system (sort of)
StevenFS, a rudimentary filesystem
Network block devices
DHCP
File Descriptor based I/O
Execution of multiple processes
Note that pretty much all of that is still under construction; we hope to add more features (fast file system, better kyz support, etc) in the near future.
What is BorkOS Named After?
Apologies to the Swedish Chef from Jim Henson's The Muppets.
Download
BorkOS is not available for download quite yet. Maybe when we accumulate few more features.